We were only one of two parties in the tent camp last night so it was very quiet. We were up early, packed and heading over to see the air museum. Tillamook is a really small town. The cheese factory/tourist attraction is the largest building and probably the largest employer in the city. There was a very nice, very large Fred Meyer so we stocked up.
The Tillamook Air Museum, locally known as Hanger B, was the west coarse base for blimps during WWII and operated a full Naval Air Station. If you are an airplane nut, then this is a great spot to spend a couple of hours. You can walk right up to all of the plance sand even get into the cockpit of a few. Very cool.
From Tillamook it was a chilly and foggy ride through many small towns and dairies. Once we reached the coastline again, then it was beach town after beach town and not many coastal views. When we did reach the water the Oregon coast is beautiful.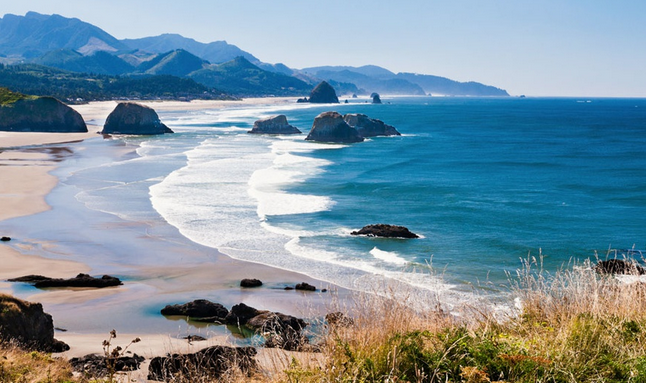 We decided to push on through to Coos Bay since the weather had cleared and warmed up. That chili and fish/chips lunch at a local dive may have helped as well. We arrived coos Bay (gambling nd lumber) and found nothing. We ended up in Banon at a lovely little RV camp. Along the way there were examples of clear cutting close to the road so most folks driving by only see the trees. If you stop and walk in 50 yards you'll see nothing but clear cut land. Sad.
The grew band is the highway
We got settled in and enjoy a really hot shower and a nice dinner over the campfire...stove set inside of fire ring. The tent sites were in between the RVs so we got our own water and ELECTRICITY!
We enjoyed another lazy morning and were loaded up and down the raod vby 10AM. We stopped at a local grocery along the way for a few things, ice, and some beer. Then it was Crescent City as our destination. Today we would cross the California border.
The road and weather opened up for us and it was a glorious warm day at higher speeds. We made up so much time that we dicovered we are two days ahead of the plan. Time to slow down. We had lunch at the Crescent City Marina and crossed the border and into the Redwood National Forest aftrer lunch.
The drive through the redwoods was stunning. At the end of the day we found a sweet campsite in the trees.